About
📅 | ⏰ 1 minutes
Hi everyone and welcome to my website!
My name is Robbi Nespu (he/him/his), but I usually go by the nickname "Rob".
I'm a 90s kid, born and raised in Malaysia 🇲🇾 , I can speak Bahasa Melayu (natively) and English (to be honest, I also learned Japanese and Mandarin language but rarely use it).
My personality type is Adventurer ISFP-A , that why I become full stack software engineer, open source enthusiast and radio amateur hobbyist who likes homebrew and exploring.
---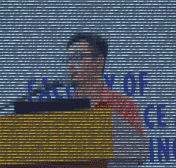 I have created this website for three simple reasons;
To have a place to write about my own thoughts and ideas. Even though it's likely become as " Everything and Nothing " as it gets.
To share my interests with family, friends, and anyone who has the same likes as me around the globe. Knowledge is always good to share, right?
As a place to store my personal notes, bookmarks, social media interactions. I'm a person who likes to keep things organized, so I hope this website will help me to do that.
Since I like to keep my own data, so this website is capable of doing cross-site conversations via webmention . So you can talk any of my posts on your own website or social media platform, and I will get notified about it.
---
If you somehow want to reach me, you can contact me 😊
Posted by: Robbi Nespu