⚠️ Warning: This post is over a year old, the information may be out of date.
📝 Callsign yang tidak dibenarkan di Malaysia
📅 | ⏰ 1 minutes
Tengah-tengah cari info tambahan untuk persediakan ujian radio amatur (RAE), terjumpa satu dokomen iaitu "Guideline on the Allocation of Call Sign to the Amateur Radio Service" bertarikh 26 Mac 2015.
Di sini ada diberi tahu:
20: The combination of certain letters in a call sign may gene rate unacceptable words such as 9M2SEX or words that sound indecent such as 9M2AQR or cause confusion with the Q code series, reserved by the ITU for the other services are restricted. The restricted call signs are listed in 'Attachment I' and will not be assigned.

21: MCMC has the right to revoke and re-assign or not to assign a call sign in case the call sign is interpreted as unacceptable or indecent
Berikut adalah jadual attachment 1: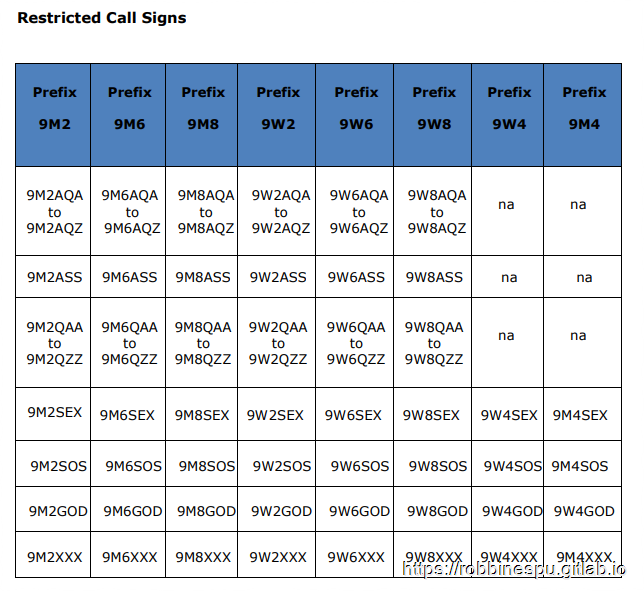 Maknanya tak semua callsign boleh pakai sebat je nak register kat borang AA lepas lulus ujian radio amatur nanti.
Sedikit pencerahan, "unacceptable" word tu maybe senang faham, yelah takkan la callsign nama SEX, GOD.. tapi untuk Q code tu ada sebab dia dan kalau ikot apa yang saya tahu dulu callsign Q code series ni diberi. Maybe sebab isu-isu ini lah yang wujudnya dokumen ini yang tidak membenarkan lagi callsign Q series untuk di miliki.
Situasi mudah seperti dibawah:
CQ DX CQ CQ DX THIS IS 9W2QRZ 9W2QRZ CALLING DX AND STANDING BY ULANG LAGI SEKALI CQ DX CQ CQ DX THIS IS 9W2QRZ 9W2QRZ CALLING DX AND STANDING BY...
Let say, ada si fulan atau sesiapa yang join then communicate
OK QSL 9W2ABC THIS IS 9W2QRZ....... pastu PROPAGATION down happened, Si fulan tu cuma dengar QRZ (Maksud : Who is calling me? You are being called by ) je, pening mamat 9W2ABC tu nak faham!
Itu jelah sebab yang aku faham. Aku tafsir sendiri je. Kalau ajaran sesat, tlg betul kan. keh keh~
Posted by: Robbi Nespu